Notebooks for brands
Are you looking for a brand ambassador that represents your company like no other promotional item?
Custom Made Individual Notebooks - Design studio, warehousing and finishing in Switzerland - From 100 pieces.
AWARDED WITH THE GERMAN BRAND AWARD
Lanybook receives the German Brand Award in the category "Industry Excellence in Branding - Office & Stationery" for successful brand management. The German Brand Award is an award for successful brand management in Germany. It honours innovative brands, consistent brand management and sustainable brand communication as well as personalities and companies that are pioneers in the world of brands.
Lanybook succeeds in creating extraordinary notebooks - with skilful craftsmanship, innovative ideas and great attention to detail, unique notebooks are created every day. The distinctive notebooks from Lanybook are characterised by elegance, the best quality and exclusive service.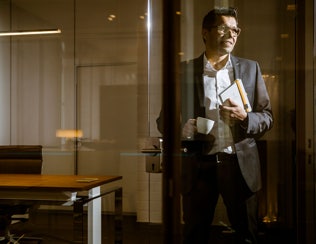 THE PREMIUM NOTEBOOK WITH PERSONALITY
Interested?
We will be happy to provide you with a non-binding offer.
Send us your request  and we will contact you personally, or call us right away.
Your Lanybook Premium Partner in Switzerland 
+41 56 402 00 72
Mon – Thu: 8:00 – 17:00
Fri 8:00 – 16:00
A note here, an appointment there... whether we use them at work or home, notebooks and calendars help us keep track of life. But Lanybook® is much more: a quality notebook with an exclusive, premium profile. It's a notebook to inspire and emphasize individuality - a notebook in which to record thoughts and ideas, any time, any place. Lanybook® is with you every day and can enrich your life in many ways.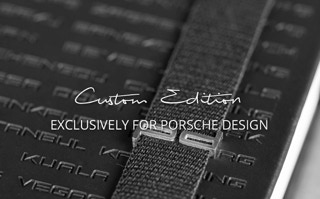 FINEST QUALITY CUSTOMIZATION – TO THE SMALLEST DETAIL
Create a personal notebook with us that represents your company and your brand. Our team can help express your corporate identity by designing a custom notebook. This goes far beyond simply printing your logo: in fact, your brand is showcased on the Lanyband® and Lanybutton® – as well as on the cover. We use all techniques at our disposal to make your Lanybook® an ambassador for your brand. We look forward to hearing from you about your project!
WE PUT YOUR BRAND IN THE SPOTLIGHT
As our designers are familiar with all the possibilities of the Lanybook® range, they will give you comprehensive advice on the options available to make your wishes a reality. Get some inspiration for this from the examples on our website! After planning, the design draft is realised in elaborate handwork. The result is a unique notebook that showcases your brand and at the same time serves as a valuable everyday companion.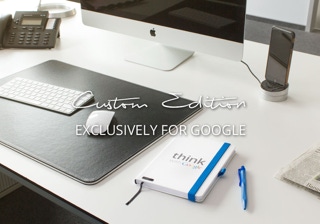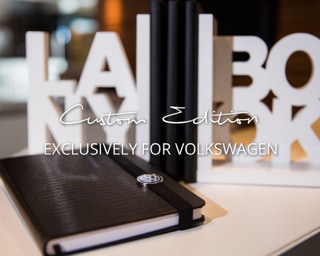 LANYBOOK® – THE PERFECT BRAND AMBASSADOR
Our designers work your corporate design perfectly. This means much more than simply inserting the company logo: Your brand will be visible on the Lanyband® and Lanybutton® as well as on the cover design. We use every level, the visual and the haptic, to make your personal Lanybook® an ambassador for your brand. Our premium notebook is more than a personal companion. Lanybook® is also an ambassador for your brand. It carries your company's logo and also strengthens your brand image with its uniqueness, quality and innovative details. Lanybook® attracts attention, it stages your brand subtly but effectively - with your customers, business partners and employees.
WHAT DO OUR CUSTOMERS SAY?
'Dear Lanybook® team, we want to take the time to say thank you for your great work. We were deeply impressed with your personal service and the competence of your team. We're convinced we've found the right partner. Quality has its price – but is also priceless. So thank you very much!'
Hyundai Motor Deutschland GmbH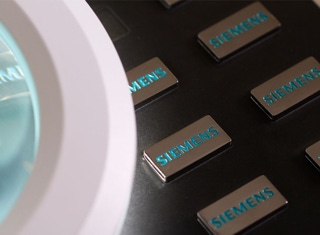 PROJECT EXPERTISE
We create bespoke notebooks based on individual corporate designs. Our team consists of 50 employees who are experts in implementing complex, large-scale projects with challenging requirements. We offer comprehensive customer care, from the initial consultation and planning, to lifelong service after delivery.
EINIGE UNSERER ZUFRIEDENEN KUNDEN
OUTSTANDING REFERENCES
We make premium notebooks for premium customers worldwide, with projects large and small. The following companies have already chosen Lanybook® – when will you?
It needs a lot of time and intuition to create something extraordinary. But that's the only way we can perfectly satisfy our customers – and that's completely worth the effort. We want to be different than others. Following this principle, we created the Lanybook® DesignStudio in Germany – the center-piece for the development of an individual premium notebook. Here, we develop and realize the numerous innovative ideas. The biggest challenge for our DesignStudio is to perfectly transfer the specific Corporate Design of a company into its Lanybook®. That is an individual process for each and every customer. Only one thing stays the same: the accuracy and precision with which our team of experienced designers implements their own demand for high quality down to the smallest detail.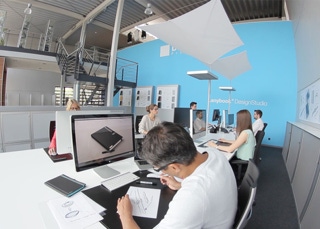 THE EXTRAORDINARY IS OUR STANDARD
The heart of Lanybook® is the DesignStudio. Here we develop ideas with a lot of know-how and experience that enthuse our customers. Every single Lanybook® is characterized by great design for every small detail. This design is provided by the Lanybook® DesignStudio in Germany with its team of designers, who love their job as much as our customers love their results - an individual designed premium notebook. Use the chance to choose out of thousands of possibilities to create your notebook with your own style and personality - a true Custom Edition exclusively for you.
EXCELLENT DESIGN
Our Team of award-winning designers puts its heart and soul into the creation of our unique collections. That's why they emanate so much passion and love.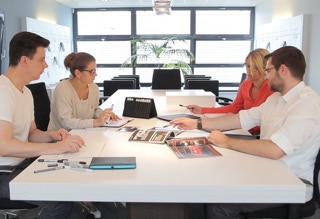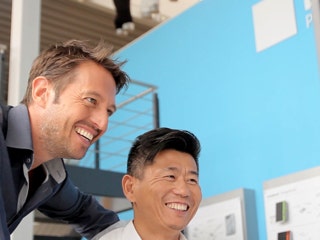 INDIVIDUAL DESIGN HAS NEVER BEEN MORE SIMPLE
You already have an idea how your individual Lanybook® should look like? Then please feel free to contact us - we are looking forward to realize your personal and unique notebook together with you!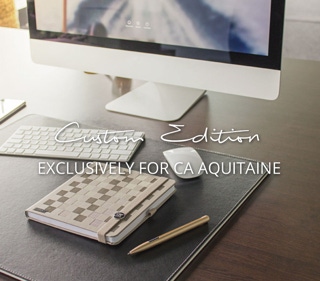 COVER DESIGN
A Lanybook® premium notebook does not have an ordinary cover made of paper or cardboard, but for example a cover made of high-quality ProTouch material. The special cover material is multi-sensory optimised and has a velvety soft surface with the felt robustness of leather. These properties not only make it very durable, they also give your Lanybook® an incomparable feel. Even an embossing, for example a lettering or slogan, can be realised on it. The ProTouch cover material was specially developed for Lanybook®, is available in numerous colours and can be printed individually.
Short delivery times - Thanks to a large selection of cover materials that are available for further processing in our warehouse in Switzerland, it is also possible to implement your ideas within short production times.
Our standard Lanybook® colors and textures have been developed to complement each other. If the particular color you want isn't featured in our standard palette, we provide a color matching service. Moreover, we can also design our cover material in every color of the Pantone scale. The range of options is huge, especially when it comes to colors for the Lanyband® and the Lanybutton®. Our designers will help you find the right colors for your Lanybook® that exactly represent your corporate brand.
LANYBAND® – SUBTLE OR STRIKING COLORS?
The Lanyband® is manufactured from extremely durable material and can be customized to make each notebook truly unique. Whether you want your notebook to be eye-catching or subtle and sophisticated, the choice is yours. For a batch of 300 pieces or more, we can dye the Lanyband® fastener any Pantone color you desire. Using a four-color transfer printing process, the ink is applied to the hot material. For an order of 500 pieces or more, the Lanyband® can be colored and dyed in up to three Pantone colors of your choice. Our design studio is ready to advise you on the optimal color design.
PATENTED 3D SILICONE PRINT
The robust, multi-layered silicone print stretches with the Lanyband®. Thanks to our sophisticated weaving technique, the design remains stable, even when the band is taut. Our 3D silicone printing technique will ensure your logo or slogan will always be perfectly presented.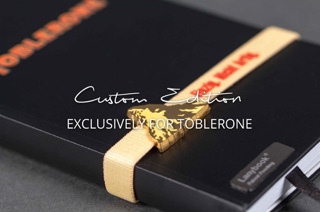 LANYBUTTON® – YOUR LOGO IN COLOR AND 3D
We are specialists in 3D emblems that are securely and permanently attached to our Lanyband®. We design and manufacture these handcrafted Lanybuttons® for premium brands individually and fulfil even the most demanding logo specifications. For both metal and rubber buttons, it is possible to use any company colour without any problems.
By means of "gel doming", even the colour gradients of complicated logos can be implemented without any problems.
PATENTED 3D SILICONE PRINT
The robust, multi-layered silicone print can cope with any stretching of the strap - a special weaving technique ensures that it is particularly sturdily bonded to the closure strap. Your logo or slogan will always be perfectly presented - both visually and haptically. The 3D haptics of the silicone print also makes your brand tangible.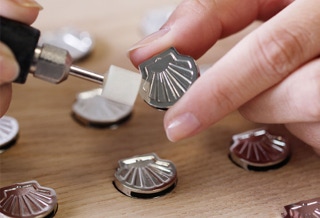 HANDMADE QUALITY
Every Lanybutton® undergoes a complex, multi-stage machining process. After the metal is cast, each button is sanded by hand. Only when this is perfectly completed, the alloying process commences. Finally, each side of the button is carefully checked again, before being polished until the surfaces and edges are smooth. The result: a brilliant, high-gloss finish with a unique, tactile quality.
Design Studio und Packaging in Switzerland
Let us advise you without obligation. Our designers will ensure the perfect, CI-compliant design and you will receive a design proposal for your individual Lanybook® notebook.  The Lanybook® notebooks are manufactured in our factory exactly according to these designs. Finishing and individualisation are mostly carried out in Switzerland. This means that very short delivery times are possible in some cases.
QUALITY AND SOPHISTICATION
We can produce our metal buttons to either a matt or gloss finish, with the option of raised or recessed designs. The Lanybutton® enhances your notebook and, together with the high-quality Lanyband®, forms an eye-catching and secure fastening system. Our designers are ready to offer personalized advice for your project.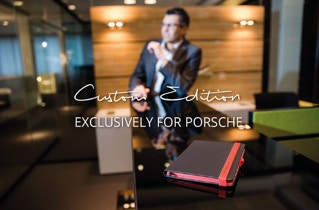 PERSONALIZED COLORED EDGES
In addition to design options for the cover, Lanyband® and Lanybutton®, you can personalize the edges of the book block with a custom color. We consider this as the finishing touch in the customization process, and the final step in making your Lanybook® absolutely unique.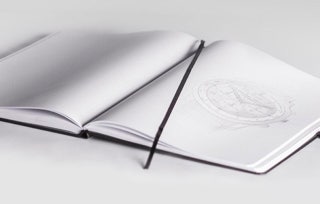 LANYBOOK® INSIDE
The interior of our notebooks can also be customized by the Lanybook® design studio. You can choose to include calendar pages, a table of contents, advert pages or printed attachments, as well as several other options.
COLOR FLYLEAF
The book attachment pages, called the flyleaf, can be distinguished from the main paper block by color. You can choose practically any color for the flyleaf to match the branding of your company.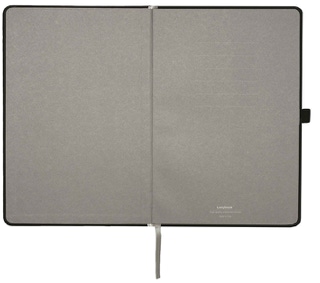 INTERIOR PAGES – LINED, SQUARED, DOTTED, BLANK
What do you want the notebook pages to look like? Choose between lined, checkered, dotted, or blank. We offer our customers the option of downloading a sample of each paper type. Before you order, you can experiment by taking notes or sketching to find out what suits you best.
LANYPOCKET®
One of the options available is a Lanybook® with a practical pocket. This is useful for storing notes, receipts, tickets and photos – or for the insertable calendar booklet.
ADVERT PAGES
Would you like to use your Lanybook® even more as an advertising medium and present your company or products - because you would like to  use it as a high-quality giveaway item, for example? If you wish, we can include advertising pages before or after the actual note section, or even a colour presentation.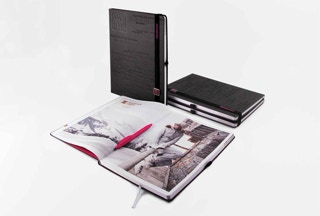 BLUEPENCIL
Our BluePencil is no ordinary pencil. Just replace the lead and, in a matter of seconds, the pencil becomes a pen. Our Pen Loop attachment made from recycled PET also holds your pen securely.
LANYBOOK® IN DIFFERENT FORMATS
Our notebook is available in five sizes to meet all your needs: A6, A5, A4, square and large.
Contact:
Lanybook PREMIUM PARTNER
Zweifelstrasse 2
CH-8957 Spreitenbach
© Lanybook Schweiz by Flexpo AG, Spreitenbach